There are endless claims about treatments in the mass media, advertisements, and everyday personal communication. This includes claims about the effects of drugs, surgery and other types of "modern medicine"; claims about lifestyle changes, such as changes to what you eat or how you exercise; claims about herbal remedies and other types of "traditional" or "alternative medicine"; claims about public health and environmental interventions; and claims about changes in how healthcare is delivered, financed, and governed.
Some of these claims are true and some are false. Many are unsubstantiated: we do not know whether they are true or false. Unsubstantiated claims about the effects of treatments are often wrong. Consequently, people who believe and act on these claims suffer unnecessarily and waste resources by doing things that do not help and might be harmful, and by not doing things that do help.
We developed the Informed Health Choices (IHC) Key Concepts as the first step in a research project with the aim of helping people make informed health choices. This website includes 28 of the IHC Key Concepts that can be used and understood by primary school children. The IHC Key Concepts are the starting point for developing learning resources. This website is one such resource.
The website and the poster can be used in different ways. For example, you could provide examples of health claims, ask students to give examples, or challenge them to find examples. You could then encourage them to think critically about how trustworthy those claims are and what they would do –
using the Key Concepts as guides, and discuss this. For each concept, we have provided links to examples and some additional learning resources.
Please contact us and share your experience using this website and any suggestions you have.

Key Concepts for older students
Key Concepts for Informed Health Choices for secondary school students and adults can be found here:

Key Concepts for other disciplines
The Key Concepts for Informed Health Choices are relevant for thinking critically about claims, evidence, and decisions about a wide variety of actions (interventions) including, for example, educational and environmental interventions. Key Concepts for other disciplines can be found here:

Primary school resources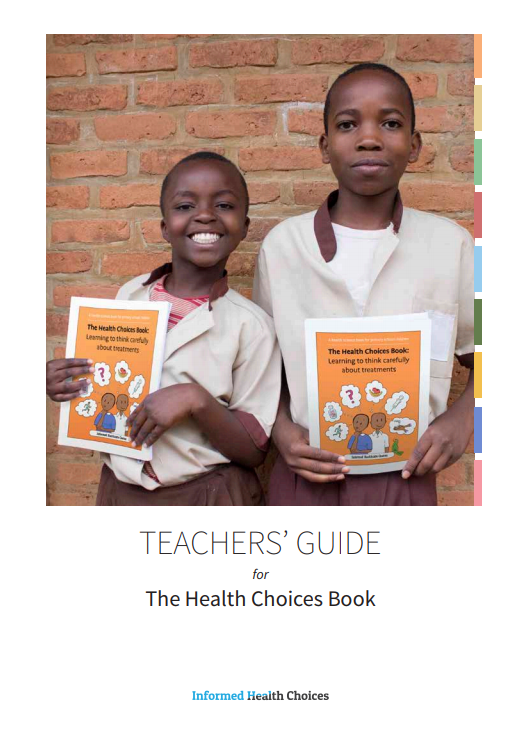 Each card on this website includes links to resources and examples. The Informed Health Choices primary school resources, including a textbook and a teachers' guide, address 12 of the Key Concepts on this website. Those open access resources can be found here: